Religions and spiritual beliefs across the world place a great importance on nature, both as a source of spiritual nourishment, support, but also as a medium for contemplation and reflection.
PNN celebrates the value of nature for spiritual health and emphasises its importance as a counterbalance to a materialistic, secular society.
 Sacred places are important for people, whether or not they are religious. Churchyards are sacred to Christians but, in other faiths, many types of place can be sacred, such as forest groves, burial grounds, wells or shrines. A report by the Nature of God's Acre project team  found that people value the nature in churchyards, and that the presence of nature enhanced the spiritual value of these special places.
In contemporary society, many people who do not belong to organised religions do not have sacred places. But it is possible to create new places, where people can experience a spiritual connection to nature.
New Sacred Places
One example where a new sacred place was created, is The Lushfest Stone Circle. The Cosmetics Firm Lush created a new stone circle as part of Lushfest 2012. Matt Shaw, who developed the idea, talks about how it was done here.
"Over the last couple of months I had a dream come true of a project to work on; to arrange, plan and build a stone circle in Dorset. The reason for this was for a new set of perfumes by Simon Constantine for Gorilla perfumes. Simon created six new scents, collectively called set in stone. The plan was to build a stone circle in an area of Dorset that contained many o the raw materials used as possible, and that each stone would represent one of the perfumes. Then at the launch there would be live music, again one separate track for each perfume as well as talks from Simon as well as the very brilliant Paul Devereux. Below are photos of the build which was marked out by myself and Steve Brackstone, with the stones supplied and the circle built by Suttles, a local Purbeck stone company. Advice of the shape of the circle and it's positioning and the choosing of the stones was also contributed to by the archeologist Julian Richards. I will be posting photos and a video from the event itself soon. The stone circle will be remaining at this site for future generations to use and enjoy."
One of the people there, Molly, said "Amongst all of the magical moments at Lushfest this year I thought the stone circle was nothing less than sublime! I found it incredibly moving. The atmosphere was beautiful and the whole concept was extraordinarily exquisite… May I say genius?" (Lushfest 2012)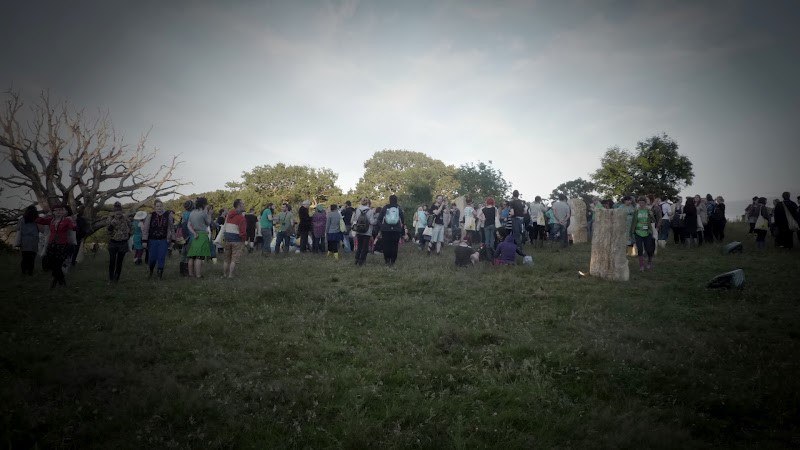 Matt explains further "Each stone was applied fragrance on the evening, there was a half hour talk from Simon Constantine about his inspiration for his six new perfumes that make up his collection 'Set in stone'. Simon's talk was followed around 25 minutes of music performed live by John Metcalf to tracks composed by him and Simon Richmond. Each stone had it's own speaker in front of it so that after the live element was finished there was a three day long sound installation, with six individual tracks playing simultaneously from six of the stones. It meant that as you moved around the circle you heard more of some pieces of music than others, creating your own mix by where you stood or sat; Similarly you got more or less scent from each of the stones as you moved around the circle. The combination of the natural beauty and interest in the site, the stones, the perfumes and the music this was an incredibly powerful experience with people reminded of all kinds of memories and at times people we're extremely moved emotionally by this. The evening concluded in grand style with a talk from Paul Devereaux, who was informative, speculative, charming and knowledgeable, taking everyone present of a brief journey through some of the theories he has been instrumental in developing over the years. The circle is now a permanent feature of this landscape. The idea was first hatched on the Winter Solstice of 2011ce and the circle was built in the week leading up to the Summer Solstice 2012 and was finished on the Solstice eve, it's first day of completion being the solstice itself, with a lunar alignment." More photos of the event are here.