This the home page for the Poundbury Nature for Wellbeing Project.
The Poundbury Nature for Wellbeing Project is supported with funding from the College of Medicine and Integrated Health, Dorset Council, Dorchester Town Council, Poundbury Waitrose and through the Aviva Save Our Wild Isles crowdfunder. 
We are grateful for the generosity of everyone who donated to the Crowdfunder.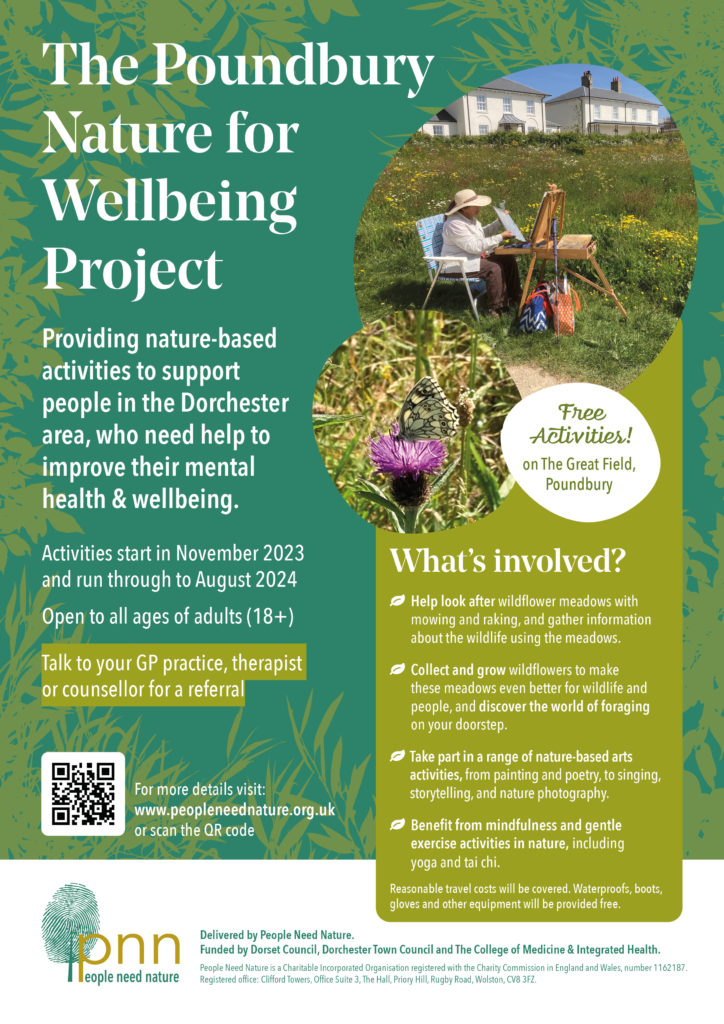 The page includes descriptions of the various different activities that participants can join, the dates of those activities and explains how to book a place on those activities.
You can now book for activities starting in January 2024
Nature Photography and Mindfulness (next sessions start 11-1230 15/2/24, then same time on 22/2/24, 29/2/24, 7/3/24).
'Combining photography with mindfulness meditation transforms photography into a contemplative practice – one that can bring a deeper connection to ourselves and the natural world, and at the same time bring relaxation, joy and a spaciousness of mind free from anxiety. This approach is about the journey not the goal so is free from judgement, ambition and any other pressure we might usually put on ourselves. Any camera you have will be fine, from mobile phone to SLR and no previous experience of photography is necessary.'
And if you need something about me: Colin has been a photographer most of his life, has practiced meditation for 40 years and trained as a meditation instructor 18 years ago. He also worked as a psychotherapist for 15 years. Passionate about the natural world he sees that connecting deeply with nature can help us take better care of the world.
Please note that this a course of four sessions, with each session building on the previous session. If you would like to go on this course, attendance at the first session is required.
Art and Nature (First session 11-1230 17/1/24, then 24/1/24, 31/1/24 and 7/2/24) Led by Art in Poundbury artists (various)
Creating art to record the natural world is a wonderful and creative way to connect with nature. We will help you explore sketching and painting techniques to capture the beauty of the natural world all around us. If weather is not good we will bring flowers and grasses  from the field inside with us. Sessions include painting with watercolour pencils; mono-printing; ceramics using air-dried clay; and graphite drawing.
Looking after Poundbury's Hay Meadows (sessions on monday mornings, 930-1230) Led by Miles King People Need Nature
Find out about Poundbury's new wildflower meadows, how they are managed and how to help look after them. Gentle exercise with some mindful nature-noticing.
Singing in Nature (12/1/24, 19/1/24, 26/1/24, 2/2/24: 2-330pm) Led by Hannah Marsh
Hannah says "Come and sing in nature! We will explore simple seasonal songs and folk tunes from around the world, based at a circle space on the Great Field. (There is an indoor option if the weather is wild). I absolutely believe that everyone has a singing voice, so don't worry if you don't think you can sing, all are welcome to discover the music."
Yoga and Tai Chi in Nature. First sessions are Tai Chi – 2-330 Saturday 10/2/24, 17/2/24, 24/2/24, 2/3/24 Led by Tim Button from the Dorchester Yoga Centre.
Yoga and Tai Chi are gentle forms of exercise incorporating mindfulness. Yoga mats will be provided.
Stories and Folklore of Nature (Sessions will be available morning (11-1230) and afternoon (2-330) for different groups. First sessions 16/3/24, then 23/3/24, 7/4/24 and 14/4/24.
Led by storyteller Lisa Schneidau
Did you know that trees talk, ravens shapeshift, and there's a little person behind every plant?
Listening to stories is ancient medicine. Our folktales contain magic and wisdom from the people who walked this land before we did. They also wake up our imaginations to the wonders of the natural world around us.
Join Lisa Schneidau, storyteller and author, to hear some of the old tall tales, and look at Poundbury's nature through new eyes! We will use some simple story games to help you develop confidence and speaking skills. You won't need to bring anything to this session, apart from stout boots and outdoor clothes, and a curious mind.
Breath-Body-Mind (from Spring 2024) led by Deborah Alexander.
Enjoy being guided through a sequence of gentle movement, nourishing breathwork and deep relaxation in a small, supportive group. These one-hour sessions will introduce you to Breath-Body-Mind™ techniques proven to relax the body and quieten the mind. You will learn practical, science-based tools to enhance, slow and deepen your breath and help regulate your nervous system. Breath-Body-Mind™ practices have helped many improve their energy, sleep, stress resilience, mood, mental focus and sense of connection with others. No previous experience of breathwork is required.
Poetry in Nature 4 sessions, led by Louisa Adjoa-Parker (April 10th, 17th, 24th, May 1st: morning (1130-1) or afternoon (2-330) for different groups.
"Would you like to try writing poetry inspired by nature? Join Louisa to learn how to write simple poems exploring nature through your individual lens. This will include discussions, warm-up writing activities and sharing the work of other poets exploring the imagery nature inspires."
How to take part in the activities
The activities are aimed at people who will benefit from help with their mental health and wellbeing and will normally be referrals. Talk to your GP practice's Social Prescribing Officer, therapist or other referrer if you are interested in taking part. Or fill in the referral form (below) and send it directly to Miles King at miles.king@peopleneednature.org.uk.
The activities are free for participants and reasonable travel costs will be reimbursed.
For most of the activities listed, you can come to as many or as few sessions as you want.
We will ask you some simple questions before and after each session, so we can evaluate how the activities have benefited your mental health and wellbeing.